The herbs that complement game have always been rosemary, sage, savory and thyme. Autumn fruit, such as apples, pears, plums (mainly in the form of plum jam) and grapes, have also always been cooked with game. The fruits of the forest - mushrooms, lingonberries, rowan fruit, cranberries and wild rosehips, the Czech rarity linked to game, are also essential elements of game dishes. And we must not forget nuts, which game is usually coated in or which are added to the stuffing. Side dishes naturally include dumplings, potato cakes or scones.
Other Czech dishes are also based on basic game recipes. One example is the Czech
national speciality, beef fillet in cream sauce
, in which the beef is larded and marinated in a vinegar solution, or all known recipes that include braising in wine, or cooking in a black sauce, which means that plum jam and gingerbread crumbs are added to the sauce.
A trendy ingredient
Game is perfect for today's healthy lifestyles. It is a meat from animals that live in a natural environment and eat natural food. Their meat contains no antibiotics and has very little fat. Game contains up to ten times more vitamins A, B, C and E than beef, it has more calcium, copper, iron, zinc and chromium.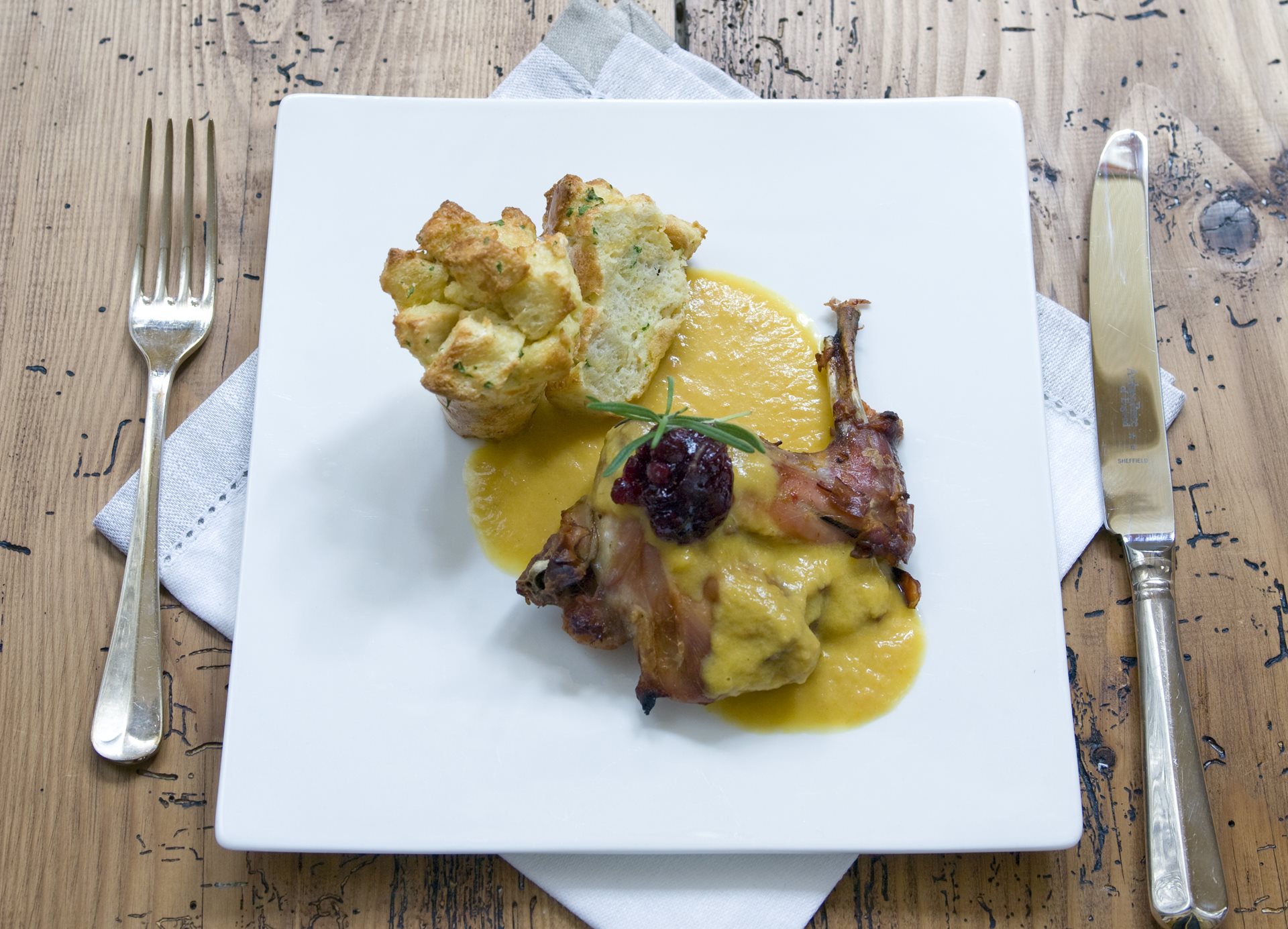 In the Czech Republic, furred game is most often cooked with a cream sauce or braised in wine. You can only taste
game with rosehip sauce
in the Czech Republic and
wild boar
is most often cooked in this way. Feathered game is most often roasted with an interesting stuffing, which includes nuts, almonds and many aromatic herbs.
Czech chefs are very good at cooking game. It's not exactly a cheap meat, so they use every part of the animal, which is why you can enjoy it in starters, in excellent pâtés, in soups and main meals at Czech restaurants.
Those of you who enjoy quick dishes may enjoy a quick game dish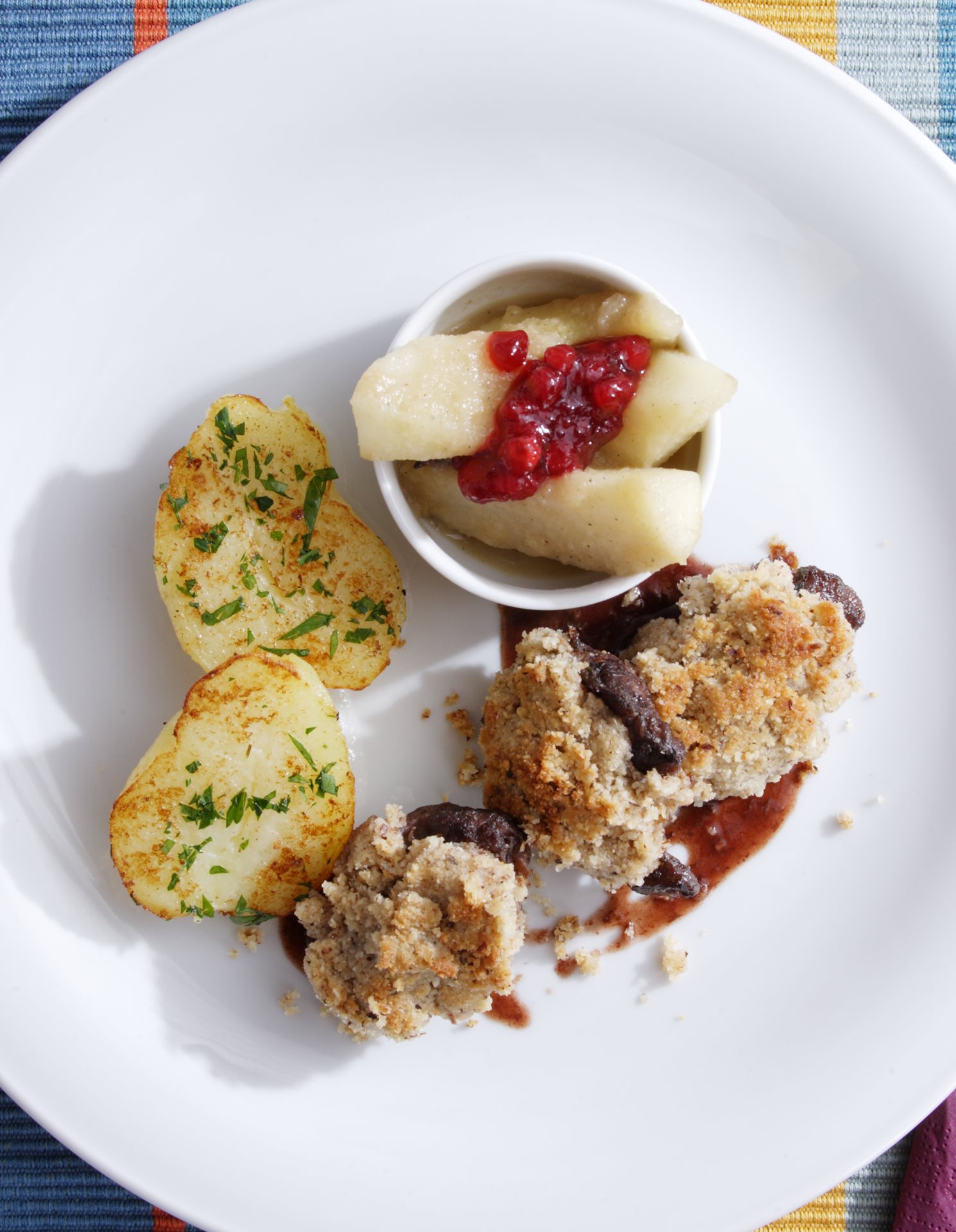 Venison tournedos under a nut crust, with braised apples and pears
Ingredients for 4 portions:
600 g loin of venison
80 g walnuts and hazelnuts
80 g butter
20 g breadcrumbs
30 g oil
2 sprigs of thyme
freshly ground pepper
salt
400 g apples
400 g pears
100 g pear marmalade or apple jam
80 g butter
8 cloves
2 pieces of whole cinnamon
40 ml fruit brandy
50 g honey
Cut the venison into chunks, season with salt and pepper, sprinkle with chopped thyme (if you have dried thyme, crush it between your fingertips), mix with the oil and leave to marinate (overnight if possible) and then fry on both sides in oil. Mix the finely chopped nuts with the butter and breadcrumbs. Fry the meat in a pan with a few drops of oil, flip and heap the nut mixture on each portion of meat. Lower the heat, cover with a lid and finish cooking over a low heat.
Peel and core the apples and pears, chop into larger chunks and fry in the melted butter. Add the marmalade and spices, stir, sweeten with honey and add the brandy (you can even flambé the fruit if you dare), braise for 2-3 minutes and that's it.
Where to go for a good meal of game?
Restaurants that are proud to cook Czech cuisine always honour seasonal ingredients, which is also the case in autumn, when most game is of the best quality. This is why we have prepared a small invitation to some of the certified restaurants in the
Czech Specials – Taste the Czech Republic project.
Loin of wild boar, bacon, root vegetables and chokeberries – edible berries, which are typical for the region of North Moravia, and also red wine and plum jam, are the sources of flavour in the speciality dish cooked at the
Kolštejn
Restaurant and their
loin of wild boar with chokeberries and fried polenta
will certainly not disappoint you. You can taste a different dish with loin of wild boar in Prague, at the
Parnas Restaurant,
loin of wild boar with root vegetable sauce
served with gingerbread dumplings. Visit the
Statek 1738
Restaurant in Kralupy nad Vltavou to taste
loin of wild boar with celeriac purée, root vegetables and chestnuts
and
guinea fowl supreme with pumpkin risotto and roasted marinated beetroot.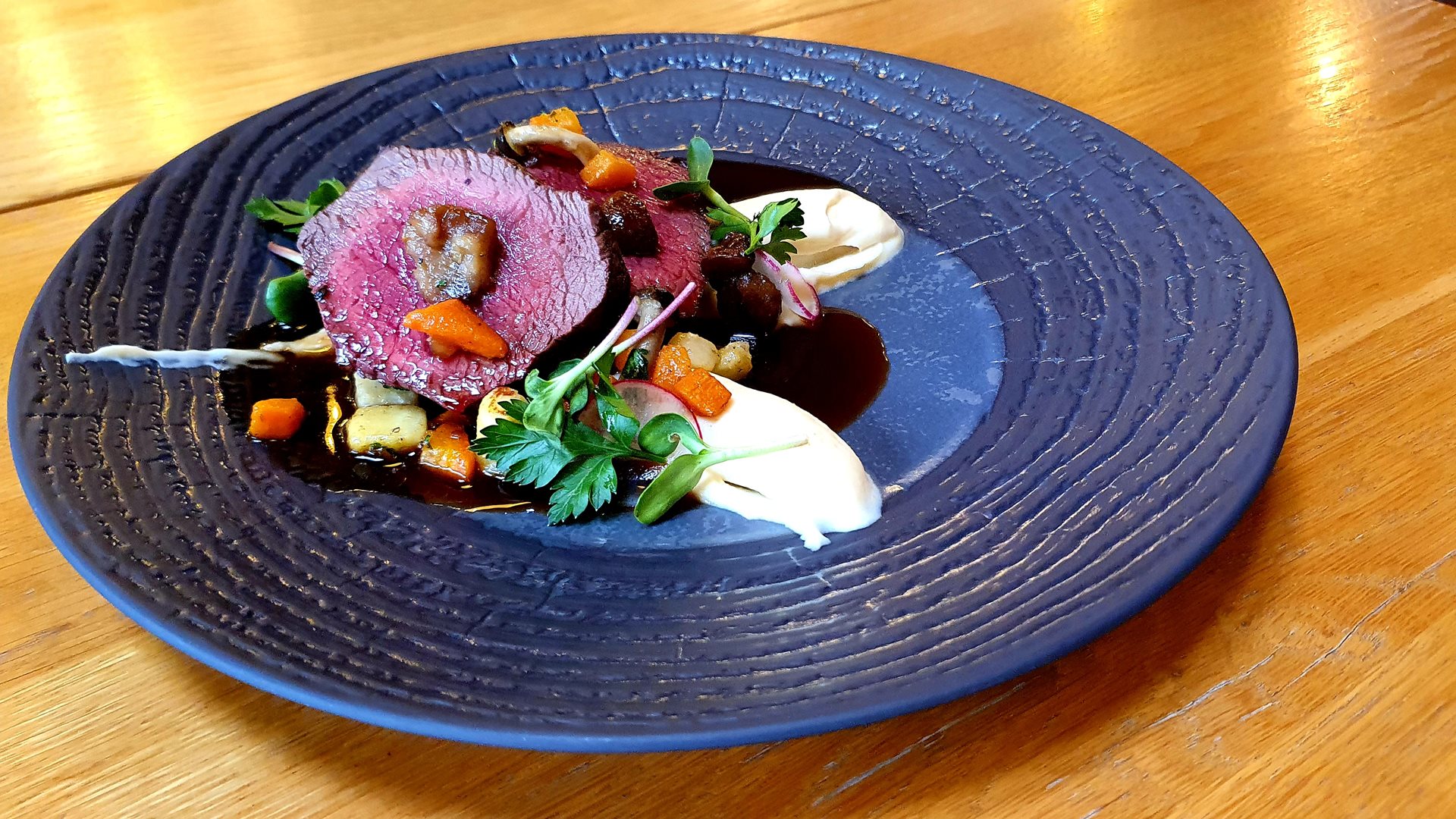 Leg of venison with homemade Carlsbad dumplings and roast wild boar with braised cabbage and homemade potato dumplings
are game specialities from the
Lovecká chata
restaurant in Hluboká nad Vltavou.  If you want to taste venison from fallow deer, then you must visit Průhonice. Chefs at the
Pod Zámkem
restaurant cook an excellent
fillet of fallow deer with porcini mushrooms
or
leg of fallow deer with rosehips
. You will be offered excellent
Giant Mountain venison goulash
at the restaurant Epicure of the hotel
Start
in Špindlerův Mlýn. And you can visit the
Sezona Chvalská tvrz
restaurant for some excellent
roast pieces of wild boar with red wine braised cabbage and potato dumplings
. The G
ourmet Restaurant Villa Patriot
in Mariánské Lázně is known for its interesting modern Czech cuisine. For this autumn the chefs there have prepared
stuffed partridge with roast vegetables, groat risotto and dried mushrooms
. The
Zlatá hvězda
Hotel in Litoměřice will also please burger fans, who can order a
venison burger with fresh vegetables and chips
there.