UPDATE 14. 03. 2022! In recent weeks, the conditions of entry and services in the Czech Republic are gradually easing. But there is still an obligation for arriving persons to provide a completely filled passenger locator form in order to prevent the spread of the omicron. Please see below.
Conditions of entry into the Czech Republic
What do you
need to know
before
arrival to the Czech Republic?
EU+ TRAVELERS
Step 1
Fill in the
passenger locator form
Step 2
To have a
valid digital EU COVID certificate
(valid 14-270 days after the completion of vaccination, this period is extended after the booster dose, the certificate must be recognized by the EU)    
OR
To have a confirmation
of
suffering
from covid-19 disease in the past
(confirmation is valid 11-180 days after a positive test)   
The classification of countries into color categories of the so-called traffic light is still maintained. If the arriving person does not hold a COVID certificate of performed or completed vaccination (recognized by the EU) or a certificate of past disease COVID-19, he must undergo an RT-PCR test within 5 to 7 days of entry into the Czech Republic.
Step 3
Everyone is required to wear a respirator indoors.
Additional information
- Exception from all hygiene measure applies only for passengers travelling by land directly from neighboring country for journeys not exceeding 24 hours.  
- Children under 12 years of age have an exception from all hygiene measures, children 12-18 years of age do not have a time-limited validity of the vaccination certificate. 
nonEU TRAVELERS:
FULLY VACCINATED FOREIGNERS:
Only 
fully vaccinated
 foreigners can travel to the Czech Republic as tourists or to visit friends.
Required
   - to fill in 
Passenger Form
   - to have EU COVID or corresponding national certificate of completed vaccination – i.e., CDC Vaccination Card
Recommended
   - negative result of an RT-PCR test, which is not older than 72 hours from the date of the RT-PCR test  
Passenger Form
Detailed instructions on how to complete the Passenger form are in a 
Manual for travelers arriving in the Czech Republic
. 
Only addresses selected from the drop-down menu are accepted. If you simply type the text, the form will not be saved. Do not forget to print out the form.  
IF YOU ARE NOT FULLY VACCINATED:
Generally, you are not allowed to enter the Czech Republic.
Please consult exemptions laid down in Article II.1 of the 
Protective Measure
 (pages 5-7).
If you fall into any of the categories listed in the Article II.1 you can travel to the Czech Republic.
However, the reason for entry must be supported by an adequate document.  
Required
   - to fill in 
Passenger Form
   - document confirming the exemption criteria  
   - to have a written certificate of the negative result of an RT-PCR test, which is not older than 72 hours from the date of the RT-PCR test  
See Article I.B.4 of the Protective Measure for details.
Children under 12 years of age are exempted from all anti-epidemic measures.
See Article I.C.a.7 of the Protective Measure for other exemptions from travel requirements.
 
Please consult the website below before departure. All travellers are responsible for verifying the current travel and stay restrictions before travel.
Entry & Residence | Ministry of Foreign Affairs of the Czech Republic (mzv.cz)
Please check also in advance with your airlines and all transit countries for their sanitary regulations (testing for COVID-19, vaccination, face covering, etc.).
Please pay special attention to the instructions on how to behave safely during your stay in the Czech Republic!
Detailed information
The Ministry of Health issued a new protective measure with effect from 14 March, updating the so-called traffic light. The traffic light is now only relevant for the entry of foreigners. Spain (including the Balearic and Canary Islands) and Sweden will now be in the red category of countries according to the level of risk of infection.  
The classification of countries into colour categories is still maintained, but is - from the point of view of Czech citizens - only informative.  
At the same time, the Ministry of Health, in agreement with the Ministry of the Interior and the Ministry of Foreign Affairs, has issued a special protective measure that lifts the entry ban and all obligations related to the rules against the spread of covid-19 set for persons entering the Czech Republic from Ukraine, which they left due to the Russian invasion.  
The Vatican City State belongs to the category of countries with
a low risk of infection (green category)
. Among non-European countries or parts thereof, Indonesia, Colombia, Korea, Kuwait, Qatar, Macao, New Zealand, Saudi Arabia, Peru, the United Arab Emirates, Rwanda, Taiwan and Qatar.  
The next category is countries or territories with
a medium risk of infection (orange category)
. No country is currently in this category.  
Traffic light also includes a category of countries at
high risk of infection (red category)
. This category currently includes
Malta, Sweden and Spain incl. Balearic and Canary Islands.
The category of countries at
very high risk of infection (dark red category)
includes
Andorra, Austria, Belgium, Bulgaria, Croatia, Denmark, Finland, France, Germany, Greece, Cyprus, Hungary, Italy, Liechtenstein, Latvia, Luxembourg, the Netherlands, Norway, Monaco, Iceland, Ireland, Romania, Estonia, Lithuania, Poland, Portugal incl. Madeira and Azores, San Marino, Slovakia, Slovenia, Switzerland and other non-EU countries.
For Czech citizens there is an application
čTečka (E-reader)
, where they can save their vaccination certificate, tests or certificate of covering from COVID-19.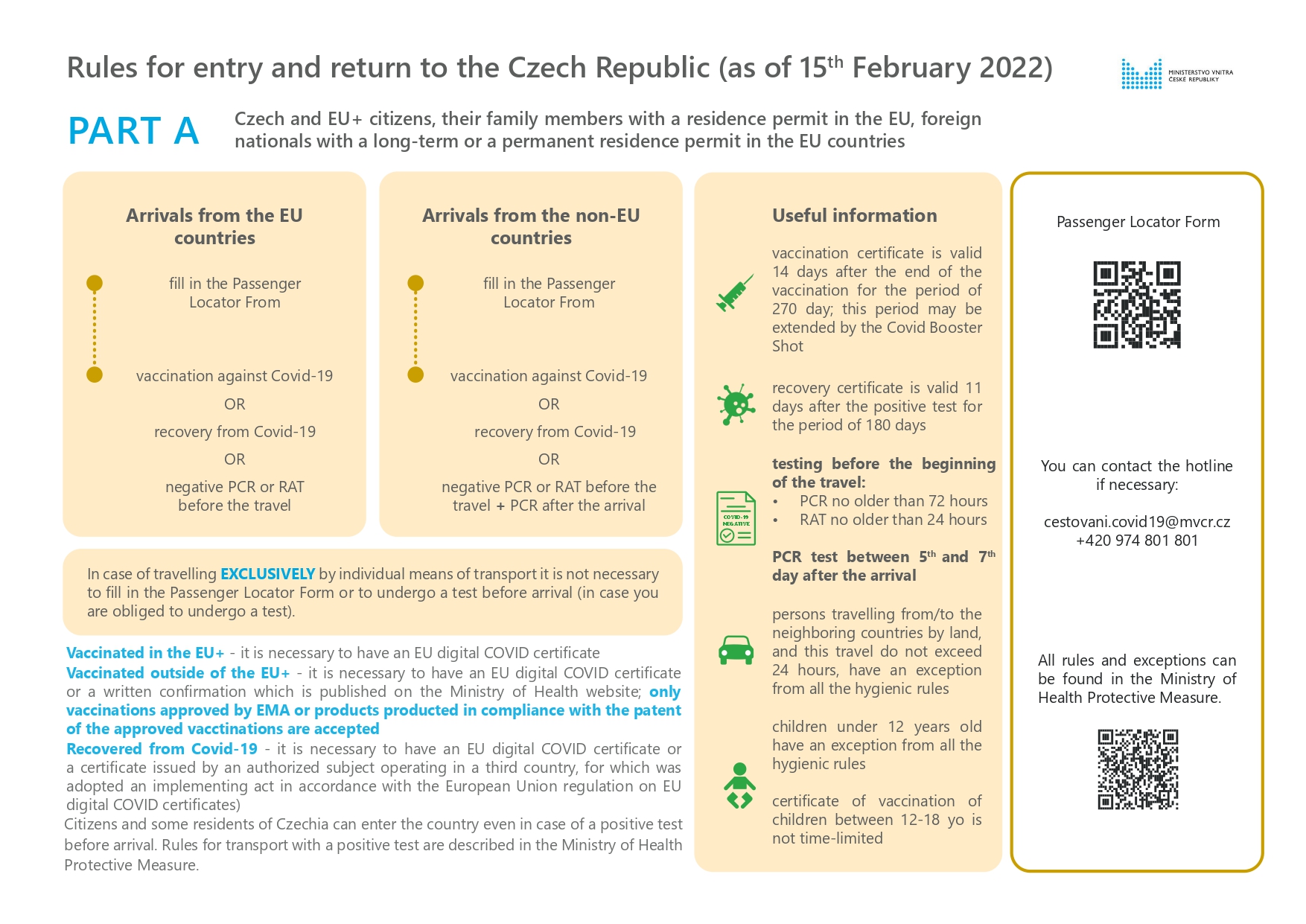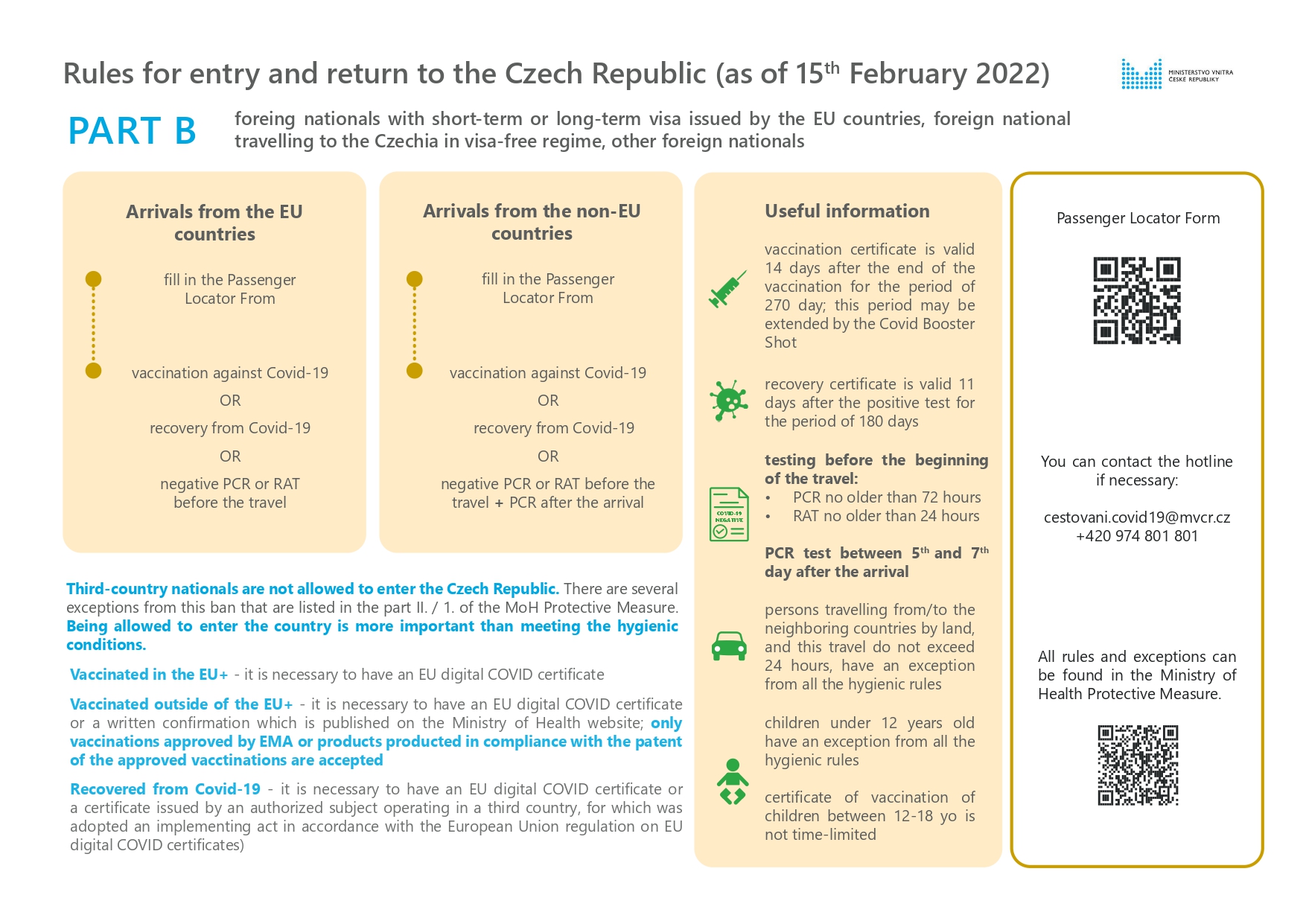 Information
Current information on entry to the territory of the Czech Republic is available on the website of  the Ministry of the Interior of the Czech Republic or the Ministry of Health of the Czech Republic
 
Measures and restrictions
NANO DRAPES AND RESPIRATORS
Both must be worn indoorsonly in public transport, hospitals, pharmacies and social services.
 
Exceptions for wearing nano drapes and respirators do not have to be worn by children under the age of two (inclusive), people with intellectual disabilities and severe mental disorders. Children under the age of 15 can wear a surgical drape instead of a respirator.

SHOPS, SERVICES AND CULTURE
Shops and Services - May be open with no restrictions on opening hours.
 
Mass, cultural and sports events - Mass events in the Czech Republic can now be attended by an unlimited number of people.
 
Wellness, swimming pools - There are open services such as wellness, saunas or salt caves.
 
Fitness centers - It is possible to operate them, veils are not mandatory. People have to keep the spacing of two meters, the changing rooms are open in normal mode.
 
Conferences, congresses - The same conditions apply as at cultural or sporting events.
 
Zoological and botanical gardens - They can have open indoor and outdoor spaces.
 
Cafeteria - At cultural events it is possible to consume refreshments in the form of a buffet or a buffet with waiter service, it is also allowed to eat in the auditorium (for example in cinemas).
 
Social events - The maximum number of people at various federal and social events, celebrations and the like is 100 people.
 
Museums, galleries, monuments - 100 % capacity is allowed provided.
 
Libraries - can open.
 
RESTAURANTS AND HOTELS
Restaurants, pubs, bars, discos, clubs, cafes and casinos can have open outdoor and indoor spaces. It is recommended to disinfect your hands and keep a distance of 1.5 meters.

Hotels and other accommodation facilities are open. There is no need to prove yourself with a certificate of illness or vaccination.
 
SPORT
Professional sports – is allowed.
 
Amateur sports – Amateur athletes can play together in a maximum of 100 people. They do not have to prove themselves with a certificate of illness or vaccination.
 
Authorities and other institutions operate normally and without restrictions.
Health services
If you have reason to suspect you might be ill with the coronavirus and have flu-like symptoms (dry cough, fever, joint pain), call the coronavirus hotlines:

National Institute of Public Health:
+ 420 724 810 106 or  + 420 725 191 367

Ministry of Foreign Affairs of the Czech Republic:
 + 420 224 181 111 or  + 420 224 182 425